Ladie's Missionary Society (LMS)
Second Tuesday of each month at 6:30pm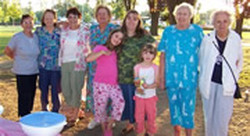 Each ladie's meeting begins with prayer. Various songs are sung and a devotion is presented by one of the ladies. Special prayers are said for those that are sick or shut-in. Also, prayer is said for each of the missionaries the church supports. A love offering is collected for shut-ins, picnic supplies, stamps and cards. Cards are sent to missionary families and shut-ins. It is very uplifting for the shut-ins whenever they receive a card or visit from the ladies of the LMS. The service is then closed in prayer.

---