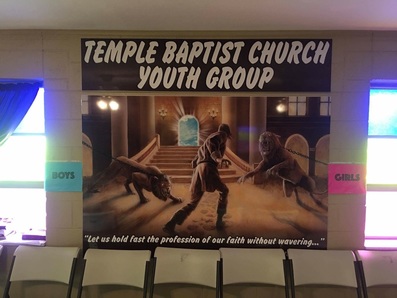 King's Kids is a local church, club-type program designed for fundamental Baptist churches who desire a dynamic outreach for boys and girls in first through sixth grades. The emphasis in the curriculum is placed upon Bible memory within the context of Doctrine and character building. Salvation is always emphasized during the King's Kids program.

All of the materials use the King James Bible and recognize the primacy of the local church.

King's Kids begins with prayer, pledges and a missionary or Bible story. Afterwards, each age group goes to their respective classes for book time.

The "Little Lambs" are ages 3-kindergarten. The children learn a Bible story, color a corresponding color sheet and work at memorizing a short Bible verse.

Grades 1-6 are broken up into separate classes. The teachers work with them on memorizing Scripture and learning bible principles and facts. The children earn buttons that are attached to banners that are on display every time they pass 4 pages.

King's Kids also includes a fun "game time" for good healthy exercise and the program ends with tasty snacks.

King's Kids Teen program is called "Teen Depot" and meets at 6:30pm also.

---